Fully-automated Medium and Reagent Pipetting System for Live Cell Imaging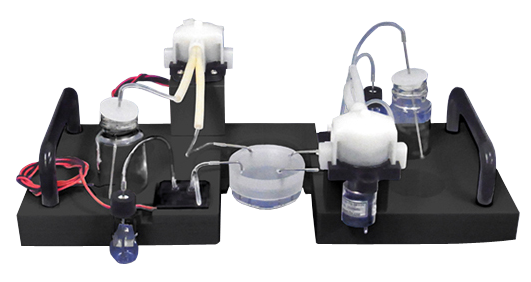 Live Cell Imaging Fluidic System (Stage Top® Incubator Type) NEW !!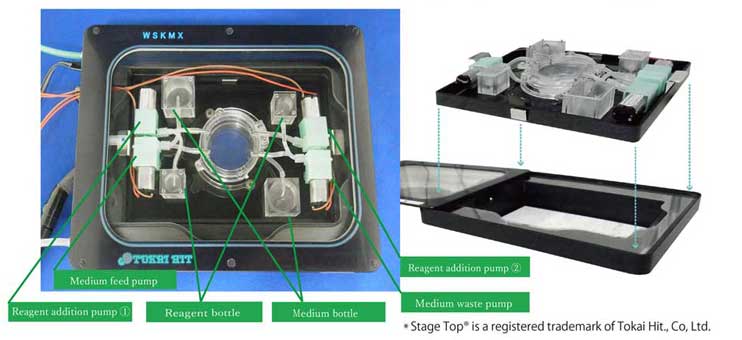 This is a fully-automated medium and reagent pipetting system for live cell imaging.
It meets the standard ANSI/SBS footprint and fits in the Stage Top® Incubator.
You can easily set up various protocols on your PC, and the system will automatically conduct the pipetting process you currently carry out manually.
The pump heads and other wetted parts are disposable.
Easily programmable from rapid medium exchange to gentle perfusion. Researchers can simply press "Start" to begin fully-automatic pipetting and focus entirely on the observation of cells.
Capable of slow and precise reagent addition (uL/min level), which is difficult with conventional manual pipetting. A controlled supply speed results in stable images.*
Gradient mode can control concentration by gradually changing the flow rates of the 2 perfusion pumps. (Only available for CEIM-0200 Series)
Maximum of 4 types of reagent addition pump are available with different flow rates. Please contact us for more information.
*A certain level of pulsation appears when peristaltic pumps are used.
| | | |
| --- | --- | --- |
| Model Number | CEIM-010x | CEIM-020x |
| Medium Feed/Waste Pump Flow Rate | 3 ~ 10ml/min | 3 ~ 10ml/min |
| Reagent Addition Pump Flow Rate | 0.45 ~ 7ml/min | 0.1ul ~ 7ml/min |
| Gradient Mode | × | ○ |
| Dimensions | 100 × 240 × 100 mm | 100 × 240 × 100 mm |
| Supported OS | Windows7 and later | Windows7 and later |
| Appropriate Dish Diameter | 35mm | 35mm |
As the dosing action doesn't disturb imaging, even though using with high powered / high NA microscope (60X, NA1.35), it is possible to clearly observe the images of before/after dosing the reagent.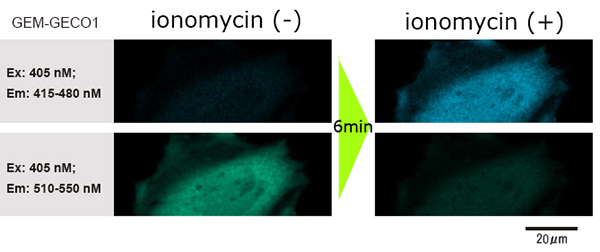 Data courtesy of Dr. H. Shibata and Mr. T. Hayashimoto, Molecular and Cellular Regulation Lab., Graduate School of Bioagricultural Sciences, Nagoya University (Japan)
Feed the HeLa cells into the glass-bottom dish, and transfect the genes.
After incubating for one day, add 1ml of reagent to stimulate the genes while photographing.
The change in fluorescence wavelength of GEM-GECO1 inside the cells (when GEM-GECO1 is chemically bonded to calcium ion, the color of the fluorescence wavelength shifts from green to blue) was observed.
[Experiment Conditions]
Microscope: Inverted confocal laser microscope
Magnification of objective lens: 60x
Numerical aperture of objective lens: 1.35
Cells: HeLa cells
Reagent: ionomycin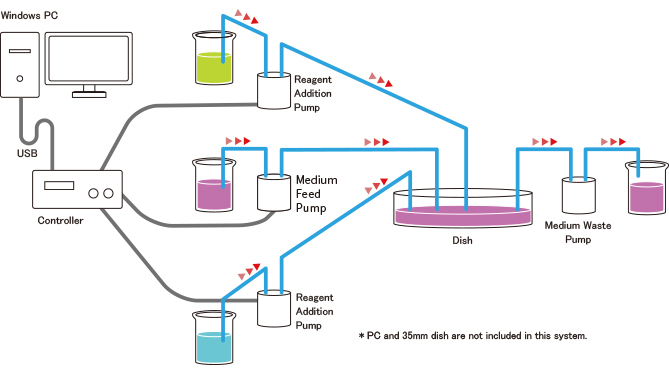 PC Setting (Example of Medium Exchange Mode)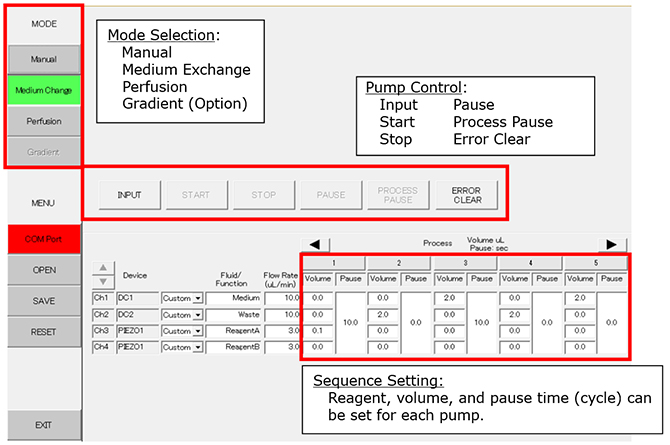 Processes under this setting:

Process 1: Add 0.1ml of reagent A to the dish. Pause for 10 seconds.
Process 2: Waste 2.0ml of medium/reagent mixture.
Process 3: Feed 2.0ml of new medium to the dish. Pause for 10 seconds.
Process 4: Waste 2.0ml of medium.
Process 5: Add 2.0ml of new medium to the dish.